Patient Information
Patient Forms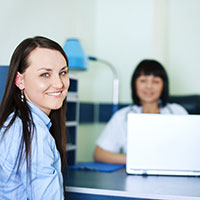 If you are seeing us for the first time, please click the link below to download our patient forms which you can fill out in the convenience of your home prior to your arrival at our center.  Please bring your driver license, insurance card, a list of your medication, and the contact information for your doctors.
Reserved parking for Amputation Prevention Center® patients is next to our 4911 Van Nuys Blvd building, entering under an archway on the West side of the boulevard.
Traveling Patients
Traveling for healthcare can be stressful.  But seeing the country's top experts to treat your condition can be rewarding.  If you are traveling from out-of-state and require assistance determining if your insurance will cover treatment, which lodging or airports are closest to the hospital, or to receive a free consultation via the web to determine if you're an appropriate candidate for therapy, please contact ngarrett@primehealthcare.com
International Patients
Frequently patients travel from outside the United States for care from our specialists. We will have a travel coordinator assist you with your needs and we can help issue a letter for a medical visa, if needed.  Many times, our doctors will want to see photos and some records before accepting your case. We will also accommodate any religious or cultural dietary requests during your stay in our hospital. Contact Nicole Garrett at ngarrett@primehealthcare.com for more information.
Airports
Van Nuys Airport, Van Nuys, CA, private aircraft only, 5 miles away
Bob Hope Airport, Burbank, CA, private or commercial aircraft, 8 miles away
Los Angeles International Airport, Los Angeles, CA, commercial aircraft, 19 miles away
Hotels